The allure and fascination with chocolates is practically a universal one in this modern world. Almost everyone with a sweet tooth will have his or her favorite — whether it be dark, milk, white, with nuts or fruits, extra creamy, spicy, and so on — and it's funny to note that with something so popular, not much is really known about how chocolates are created, or about the diversity in quality and grade. Much like coffee or wine, there are chocolates and then, there are "chocolates!" Chocolates are distinguished in various manners; the label "Swiss" or "Belgian" in chocolates is just one of the ways in which marketing has influenced our perception of quality, as both countries have more to do with processing and the retail end of chocolate-making.
If I ask you to distinguish cacao from cocoa, how many would readily reply or even know that from the cacao fruits, the nuts are then processed to raw cacao powder, the most basic ingredient needed to create chocolate? Cocoa being raw cacao powder is subjected to specific high temperatures. As with much in the world today, we take a lot for granted, settling for recognition of the brands that are retailed. A current growing trend for chocolate connoisseurs has to do with "single origin" and the "bean-to-bar" purity of the chocolate products. And would it surprise you to learn that a world-renowned premium brand, Askinosie, based in Springfield, Missouri, proudly lists that its single-origin bars come from either Tanzania, Ecuador or Davao? Yes, you read  that right, the Criollo Porcelana, grown by cacao farmers on the outskirts of Davao, is held with high regard in the world of the chocolate cognoscenti.
And this is where Auro Chocolate comes into the picture. With Kelly Go and Mark Ocampo spearheading the venture, Auro aims to take local chocolate production to a level that would meet global standards. Production of cocoa (nibs and mass), couverture (blocks and coins used in baking) and retail bars is to be found in a modern, state-of-the-art 2,000-sq.-m. factory in Calamba, Laguna. It's a project that had its genesis when Kelly and her mother, Jacqueline, discovered the Askinosie Davao bar in 2010 in their Chicago outlet but back then it was deemed unfeasible. Thankfully, Kelly held on to the notion and partnered with friend Mark Ocampo, whose own Chicago work experience had to do with marketing and advertising. They've done the field research, talked to the Davao farmers, set up the factory and are embarking on an exciting business "journey" that couples social entrepreneurship with passion — plus trying to create a world-class product.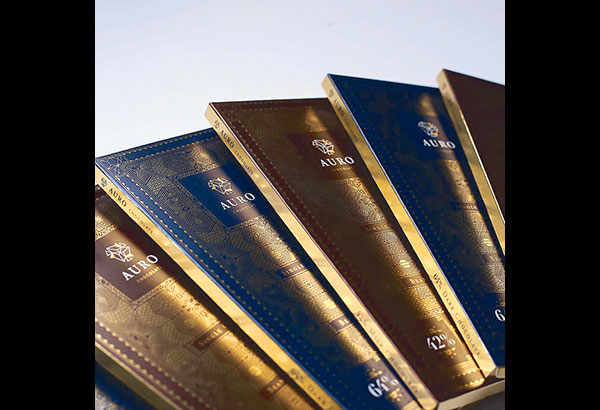 The smartly elegant packaging of the Auro bar, using Mindanao tribal patterns to look like a gold bar!
Mention was made of social entrepreneurship and this comes in the form of the Auro field team responsible for talking to the farmers and securing their harvest of cacao. For Auro, it was a two-way educational voyage. It had to first open the eyes of the cacao farmers to the possibilities of shifting from yield to quality, and growing varieties that would meet Auro's specific needs. And likewise it meant Auro would have to understand better the financial cycles of the producers, and talk to cooperatives as well as individual farmers. The trust factor had to be slowly established, built and strengthened.
Mark shares an anecdote about how he and Kelly would observe foreign tourists in our airport duty-free stores. Having enjoyed their Philippine holiday, they would get excited looking at local food items but invariably, would place them back on the shelves after looking at the price. It's to counter this situation that Auro has placed such an emphasis on quality, on packaging and on price. The retail bars have a very subtle Mindanao tribal pattern on the boxes. And if all goes as planned, beyond the present lineup of two variants of dark chocolate, the milk chocolate and the white, there will soon be SKUs (stock keeping unit) of fruits- and nuts-infused chocolate bars — all at a price that can compete with the best the premium global brands offer.
Talking to Kelly and Mark is a joy as their unbridled enthusiasm is infectious. They finish each other's sentences, and wax nostalgic about the journey so far. While it is patently a business and thus, profit-oriented, there is the aspect of achieving some kind of long-term social impact with the farmers, and hopefully, being the very first Philippine chocolate manufacturer to be recognized for sustained quality and stable production, packaged in a manner that can compete with foreign brands we are all too familiar with and even, enamored by.
After all, given that the Davao cacao is such a prized commodity, why can't a Filipino chocolate brand also make it on the world stage?
Cu-Unjieng, Philip. Phil Star (2017, June 25) You say cocoa, I say cacao. https://www.philstar.com/lifestyle/allure/2017/06/24/1713247/you-say-cocoa-i-say-cacao