Get ready to fall in love with these sweet treats which deserve a spot on your table. 
This year's list of best desserts include indulgent cookies, flavorful and moist cakes, dreamy pastries, and fun ice cream treats. Bookmark this list for your next party or for your holiday spread! Check out which desserts made it to our annual list: 
1 Matcha Cheesecake by Casa San Luis Pastries
Earthy green tea flavors are the perfect foil to the creamy and indulgent cheesecake base. Did we mention we love the contrasting flavors of the silky cream and sweet strawberries, too?
Price: P950 for a 7-inch cake
Buy: Order online at Casa San Luis Pastries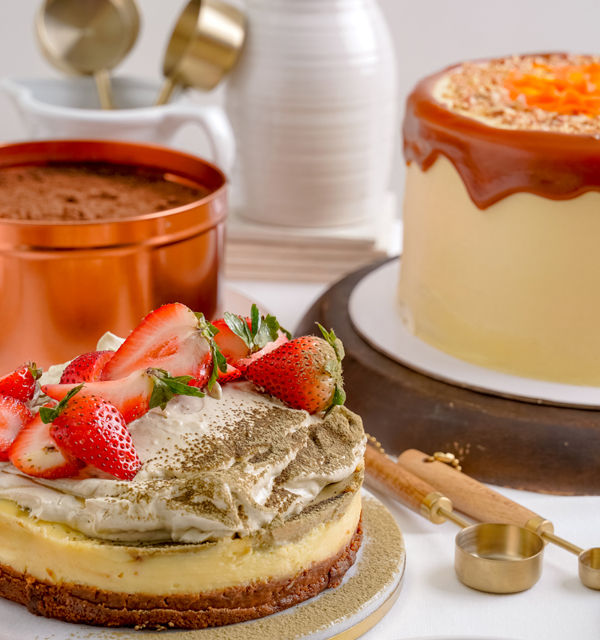 2 Ube Cake by Pastelaria_Manila
This moist ube sponge cake is generously layered and sealed with quality ube halaya. By quality, we mean the best! The cake is covered in Baguio's popular Good Shepherd Ube. It's the most authentic and decadent ube cake you can have.
Price: P1,260 for a round 10-inch cake; P1,360 for a rectangle cake (10x18 inches)
Buy: Order online or call (0939) 939-8632; Instagram: @pasteleria_manila
3 OMG Chocolate Cake by Jen
Have you ever eaten chocolate cake and thought to yourself: there just isn't enough icing! Ever felt guilt about stealing icing from the rest of the cake? Well, you're not alone. This is one indulgent cake you'll want to keep to yourself. 
Price: P450/can
Buy: Order online or call 239-0745; Pick up point: Love Desserts at 915 Banawe Street, Quezon City; Instagram: @omgchocolatecakes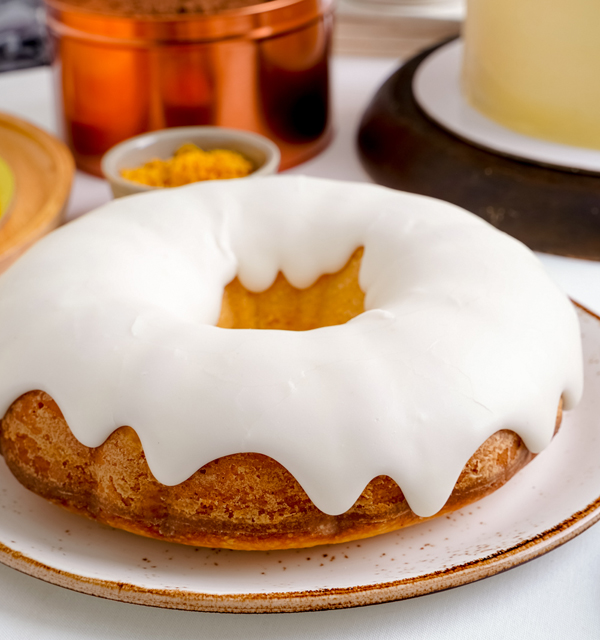 This Lemon Yogurt Bu
ndt Cake is equal parts sweet and tangy.
PHOTO BY
MARK JESALVA
4 Lemon Yogurt Bundt Cake by 1986 Bakeshop
Trust us, a slice of this moist bundt cake will bring on a smile. It's tangy and sweet in all the right ways.
Price: P750
Buy: Order via (0917) 983-2488
5 Gianna's Quattro Chocolate Cake
You can get in on the tin can craze without cheating on your diet! This low-carb treat ticks all the boxes for tastes and textures, too. Dig into the the four layers: moist chocolate cake, chocolate ganache, rich chocolate cream and Malagos unsweetened chocolate.
Price: P715/can
Buy: Order online or call (0998) 859-8845; Instagram: @giannascookies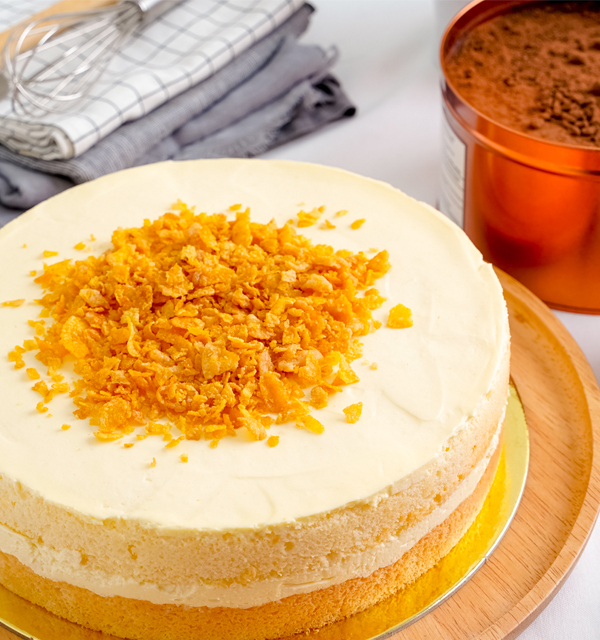 Each light, fluffy bite will remind you of your bowl of cereal, in the best way possible.
PHOTO BY
MARK JESALVA
6 Cereal Milk Cake by The Pastry Cart 
This will bring you back to your childhood: of spooning cereal swimming in sweet milk.The moist chiffon cake layers allow you to enjoy one of the best flavors ever: cereal milk in cake form! We're pretty sure you'll want a second slice.
Price: P1,200
Buy: Order via (0916) 745-7729; Instagram: @thepastrycart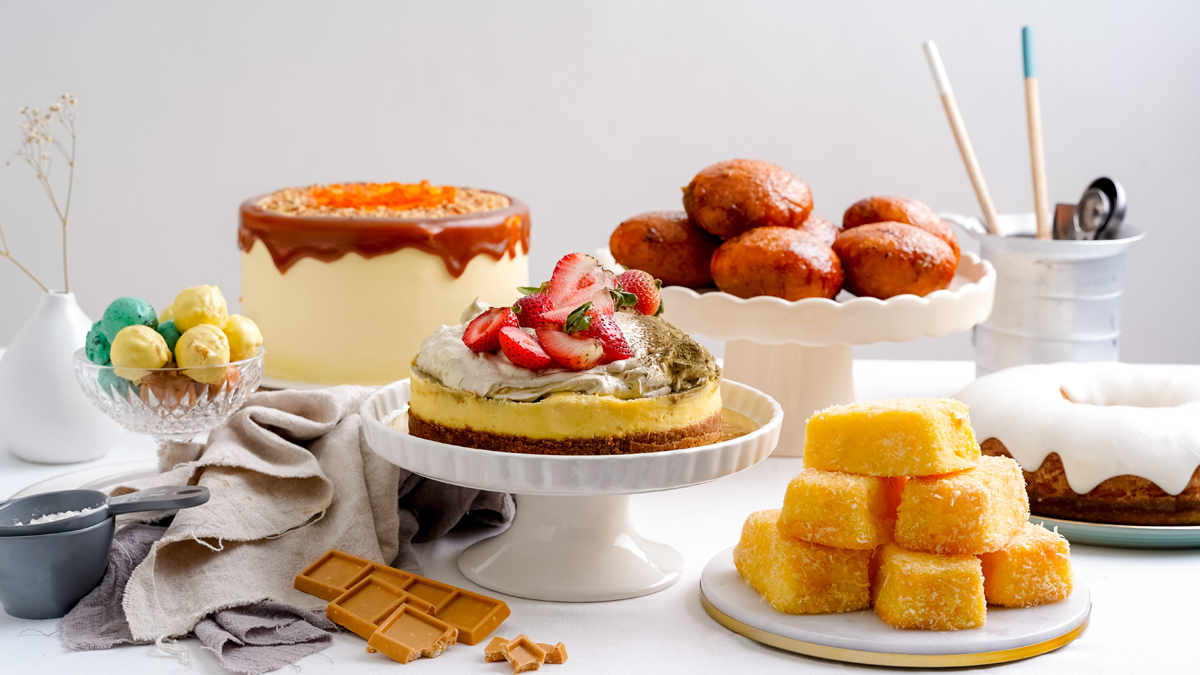 PHOTO BY MARK JESALVA
So simple yet so good! Chocolate and caramel is one of the best combos, ever. PHOTO BY MARK JESALVA
8 Chocolate Caramel Cake by Big Al's
Served in an unassuming tin container, this cake doesn't need frills to be good. The moist chocolate cake is topped with a caramel sauce that tastes just like your favorite Leche flan caramel!
Price: P650/junior size, P1,200/birthday size, P1,800/party size
Buy: Order Online at Instagram: @bigalscookiejar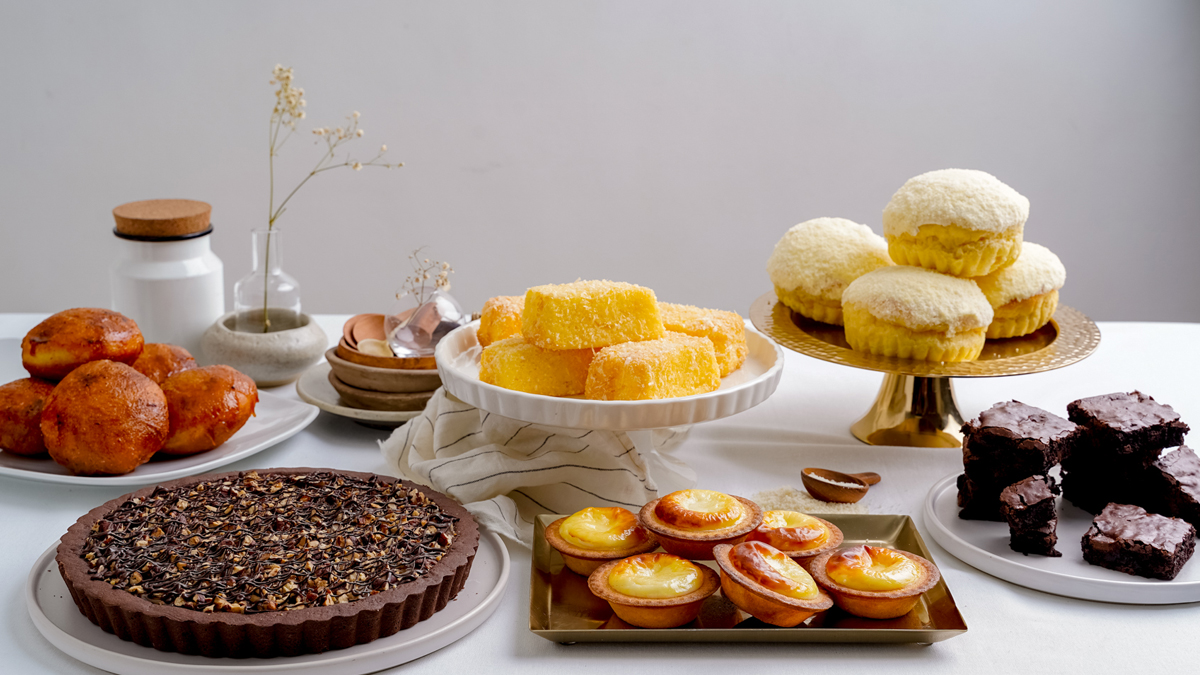 PHOTO BY MARK JESALVA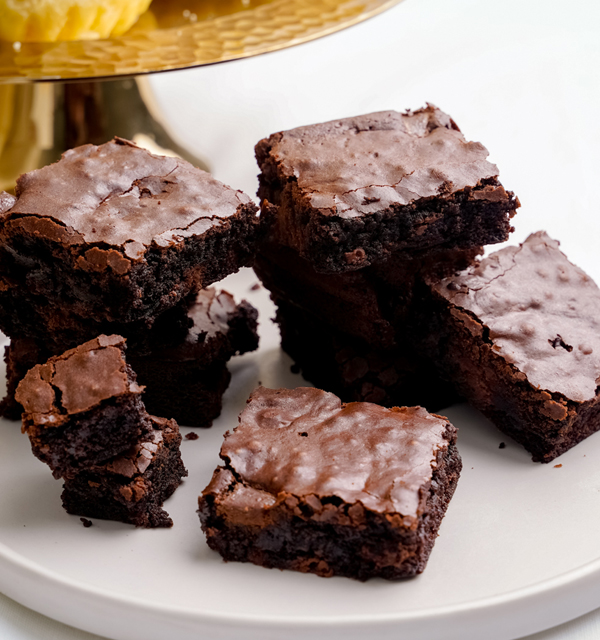 These fudgy brownies are made with Malagos chocolate. Yum!  PHOTO BY MARK JESALVA
9 Malagos Brownies by Blends and Batters
These incredibly soft, fudgy brownies will make you a certified chocoholic (if you aren't already one.) It's a plain brownie, but done flawlessly so that it's star really shines: delicious, dark Malagos chocolate.
Price: P200/8 pieces
Buy: Order Online  at Instagram: @blendsandbatterph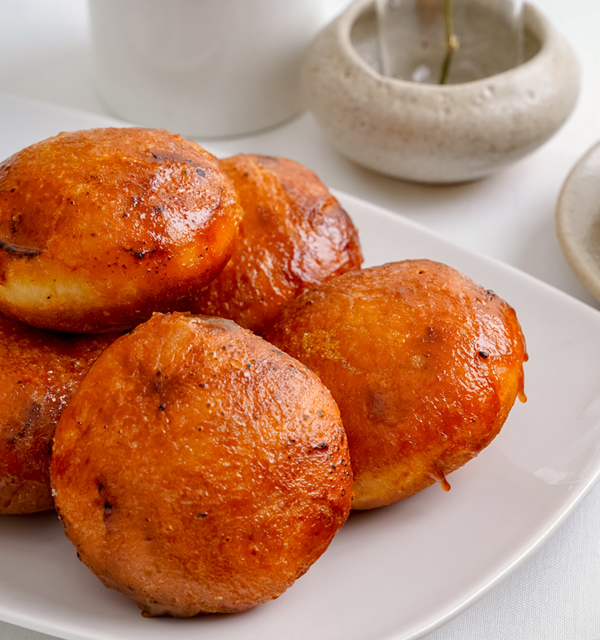 Poison Doughnuts' Creme Brulee doughnuts are perfect with a cup of coffee.  PHOTO BY MARK JESALVA
10 Creme Brulee Doughnuts by Poison Doughnuts
We can't decide which part we love best: the burnt brown sugar which coats this dense, cakey doughnut made of sourdough-brioche dough, the rich sugar custard inside, or the fact that it goes perfectly with our cup of coffee.
Price: P80 per piece
Buy: The Alley at Karrivin Plaza, Chino Roces Avenue, Makati City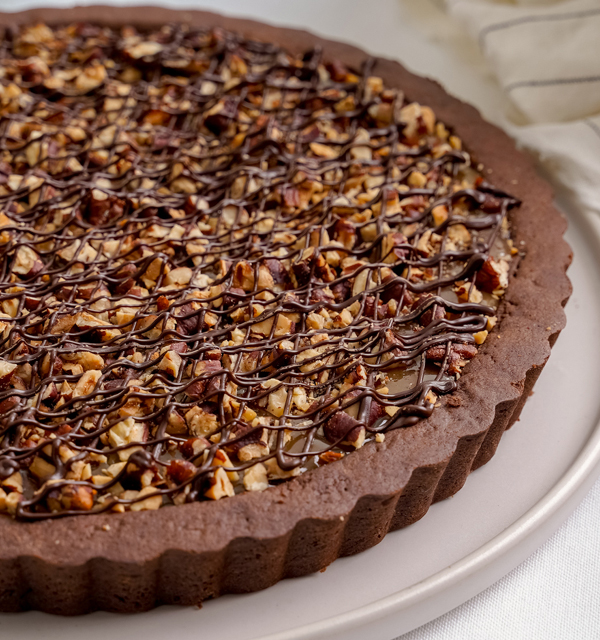 Classic Confections' Turtle Pie: one slice is not enough!  PHOTO BY MARK JESALVA
11 Turtle Pie by Classic Confections
Little else comes close to that perfect chocolate-and-peanut butter bite. Every slice is a delicious, heady mix of textures and milk chocolate flavors-an easy crowd-pleaser, if you ask us. 
Price: P995
Buy: Available at all Nono's stores by November 3, 2018
12 Cheese tarts by BAKE
A tart with gooey, luscious, and velvety creamy filling-BAKE cheese tarts are great eaten chilled, frozen, or straight out of the oven.
Price: P95 per piece/ P540 for a box of 6 pieces
Buy: Podium Mall, Ortigas Center and Powerplant Mall, Rockwell, Makati City
13 Parmesan Ensaymadas by

 

Claudines

 

Homemade Classics
This perfectly soft, perfectly baked ensaymada is a perfect balance of sweet and creamy buttercream with salty, umami-rich Parmesan. You'll absolutely love it with a cup of hot coffee!
Price: P660/half dozen, P1,300/dozen
Buy: Order via (0917) 532-2300; Instagram: @claudineshomemadeclassics
14 Queso de Bola Taisan Cakes by Purple Spatula
Sinking your teeth into these cloud-soft little moist sponge cakes will send you to cloud nine. Sprinkled with white sugar on top for a little crunch and the perfect amount of salty Queso de bola to play with your palate-it's hard to stop at one piece!
Price: P45/each. Available in box of 8s, 10s, 12s and 15s
Buy: Order online or call 0917-5344379; Instagram @purplespatulabakeshop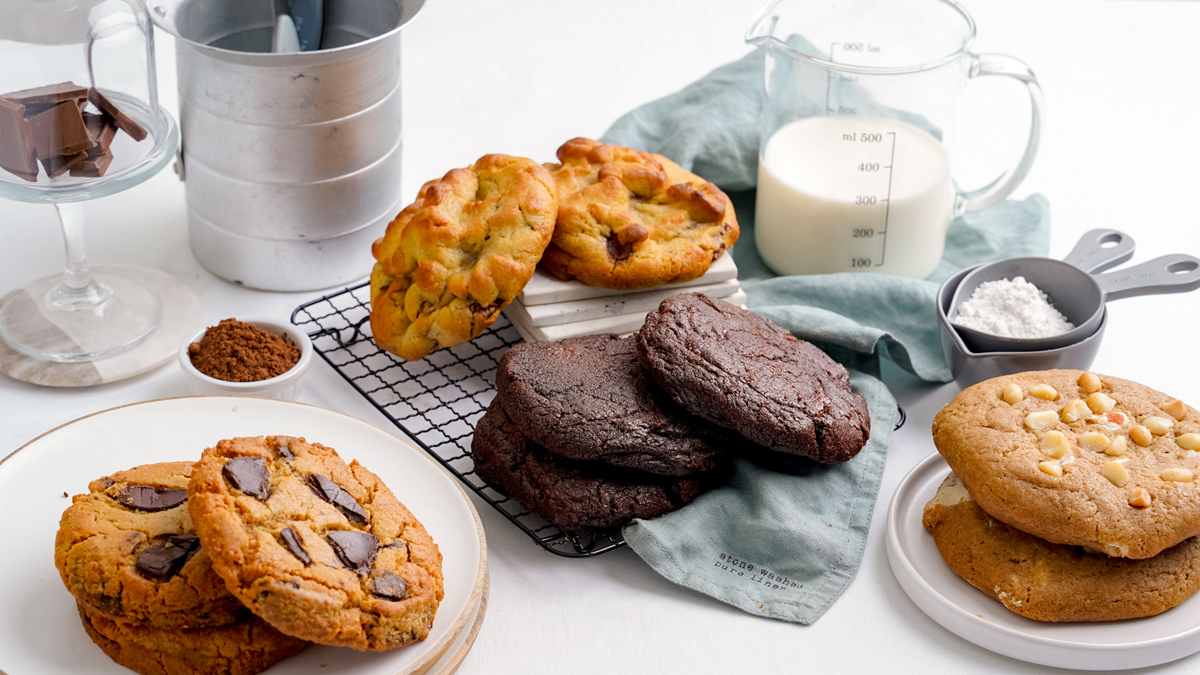 PHOTO BY MARK JESALVA
15 Classic Milk New York Style Cookies by Henrysbestcookies
There's nothing like a classic chocolate chip cookie done excellently. Every bite is guaranteed to be ooey gooey with chocolate!
Price: P360/Box of 3
Buy: Order online at www.henrysbestcookies.com; Instagram: @henrysbestcookies
16 Red Miso Choco Chunk Cookies by Baker on East
These sinfully delicious cookies have two things that lure you in: a unique, umami punch that balances the sweetness and a tender, no-other-like-it tender crumb.
Price: P950/12 pieces
Buy: Order online or contact (0917) 539-7640; Instagram: @bakeroneast 
17 South Cotabato Dark Chocolate Cookie by The Mess Hall
These guys really know how to bake a cookie: it has an incredible chewy texture you love with just the right amount of sweet flavors and chocolate chunks to make you fall in love with chocolate all over again.
Price: P120/Cookie
Buy: The Mess Hall, Karrivin Plaza, Chino Roces Avenue, Makati City; Instagram: @themoplex 
18 Macadamia White Chocolate Giant Cookie by Ollie's Kitchen
Imagine nutty flavors, slightly sweet white chocolate, and a cookie base reminiscent of toffee notes all in one huge treat. You'll want more than one big cookie, for sure.
Price: P120/ piece
Buy: Order via (0926) 613-6392; Instagram: @ollies.kitchen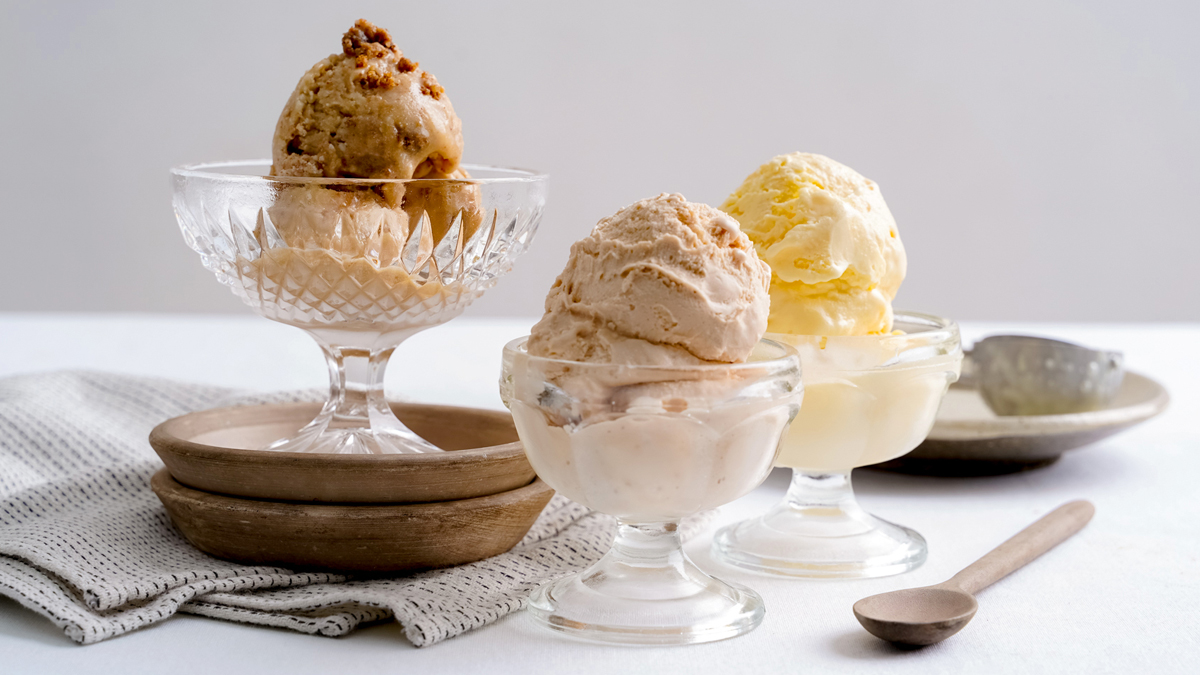 PHOTO BY MARK JESALVA
19-20 Lemon Curd and Earl Grey custard ice cream by Fruits in Ice Cream
Creamy, silky ice cream that lets flavors shine: FIC's lemon curd is tangy and refreshing whilethe Earl grey flavor lets you enjoy bold tea flavors you love.
Price: P450
Buy: SM Supermarket branches: SM Aura, SM Makati, and SM Megamall
21 Biko Gelato by MNL Creamery
This non-dairy gelato is a winner in every sense: you get all the familiar biko flavors, the gelato base is made with suman, and it is mixed with latik and a coconut sugar crumble. Yum! 
Price: P150/ scoop
Buy: MNL Creamery branches: Alabang Town Center, UP Town Center, Ayala Vertis North, and Malingap Central Food Hall in Quezon City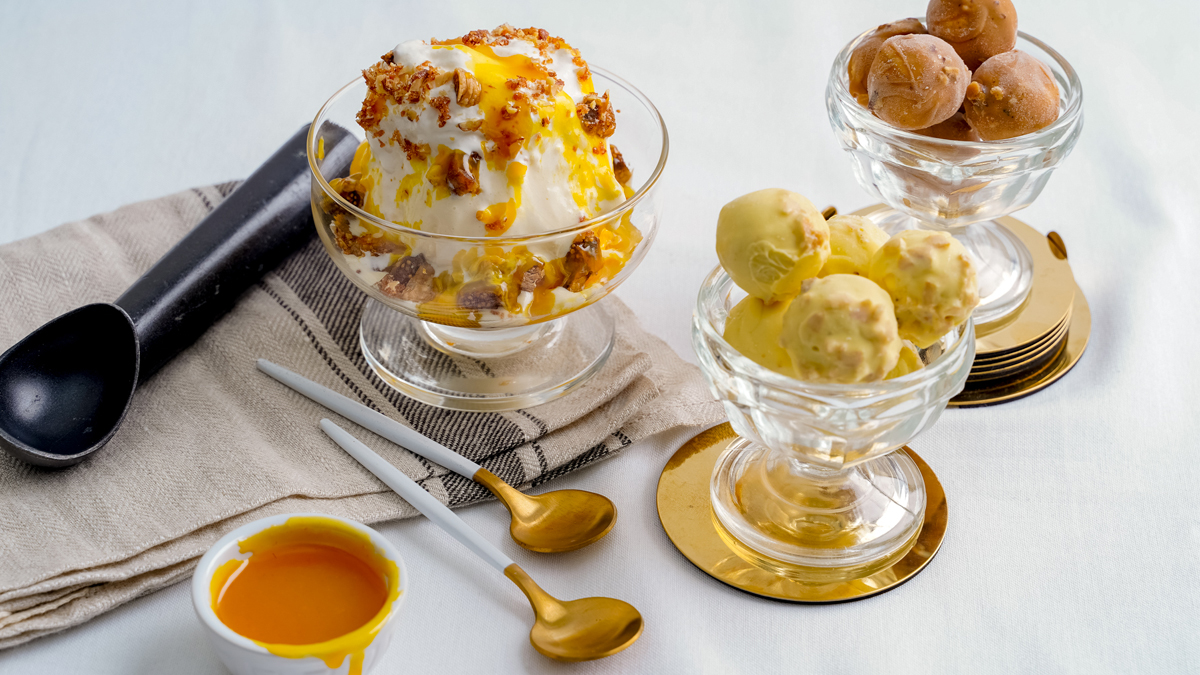 PHOTO BY MARK JESALVA
22 Titas of Manila by Carmen's Best
This ice cream sundae is both for the adventurous and those on the lookout for more refined flavors.Imagine cheese ice cream, candied almonds, and figs in one dessert that has all the sweet, salty, and zesty flavors you love. Definitely Tita (and tita-at-heart)-approved!
Price: P280
Buy: Carmen's Best, Powerplant Mall, Rockwell, Makati City
23

 

Poppits

 

by Sebastian's 
Just when you thought ice cream could not get any more exciting, along comes Poppits. Thesebite-sized ice cream nuggets are encased in a chocolate shell and you get crunch and sweet flavors before they burst inside your mouth. Our fave flavors: passionfruit, Oreo mint, and banana chip.
Price: Poppits (P120/eight pieces, P190/16 pieces)
Buy: Sebastian's Ice Cream, 4/F Ayala Malls Vertis North, Quezon City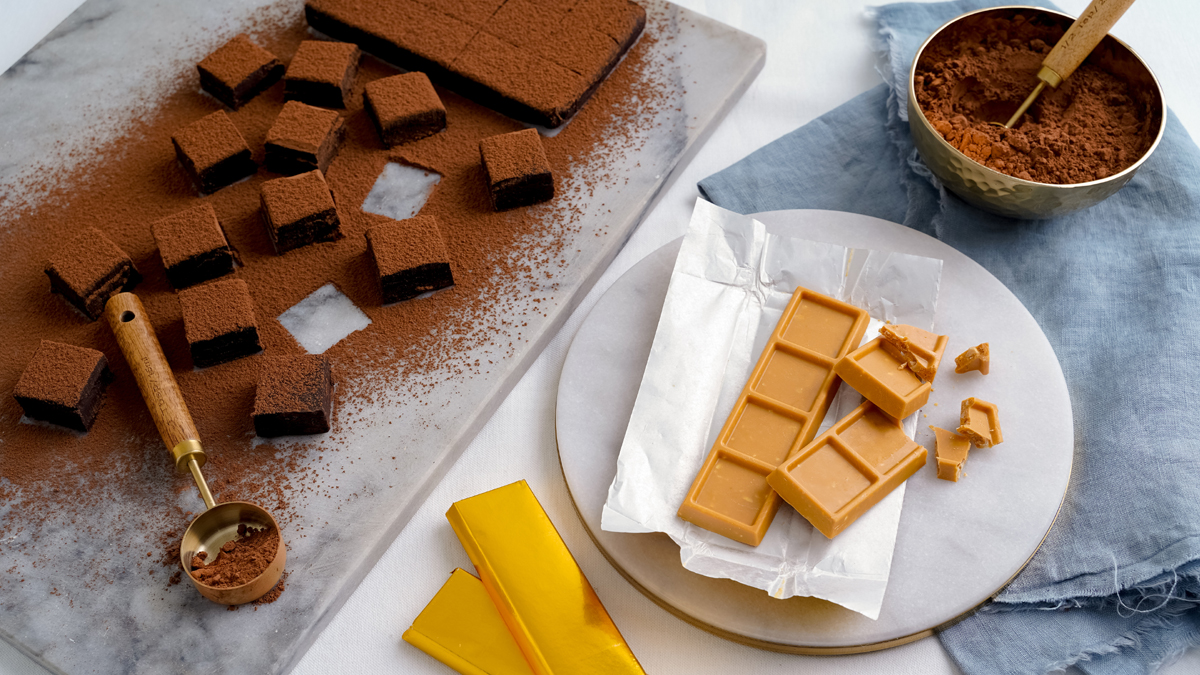 24 Nama Chocolate Truffles by

 

bitesizeph
Creamy, indulgent, and just the right size-these chocolate truffles are made for people who enjoy the little things in life like the perfect chocolatey bite.
Price: P100/box (15 cubes)
Buy: Order online or call (0977) 855-6070. Instagram: @bitesizeph 
25 Roasted White Chocolate with Cashew Bars by Auro
If you're not a big fan of white chocolate, this bar will change your mind. Creamy, lightly sweet, and nutty, we're certain you won't want to share.
Price: P79/ bar
Buy: select Kultura branches
Article: Yummy.ph