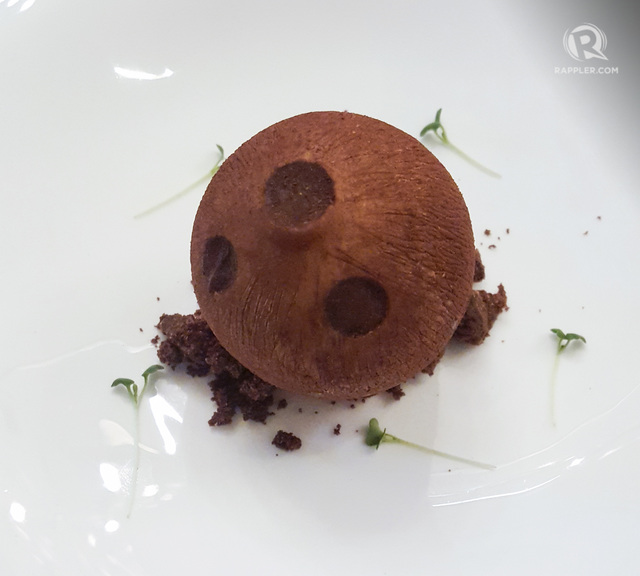 Chocolate for dinner sounds like a very decadent affair but for Auro Chocolate it was also a meaningful one.

Founded by Mark Ocampo and Kelly Go, the brand offers premium chocolates produced entirely in the Philippines – the cocoa beans are all farmed in Davao and then sent to Laguna for chocolate production. The founders invested on German machinery – the same ones international brands use – to elevate the quality of Philippine chocolate. From farming to production, these stringent processes assure consumers of locally produced world-class chocolates. 

Other than the basic dark chocolate bars, Auro recently launched a heritage collection that blends other locally farmed produce: milk chocolate with Davao banana chips, dark chocolate with Benguet Arabica coffee beans, and roasted white chocolate with Palawan cashew nuts.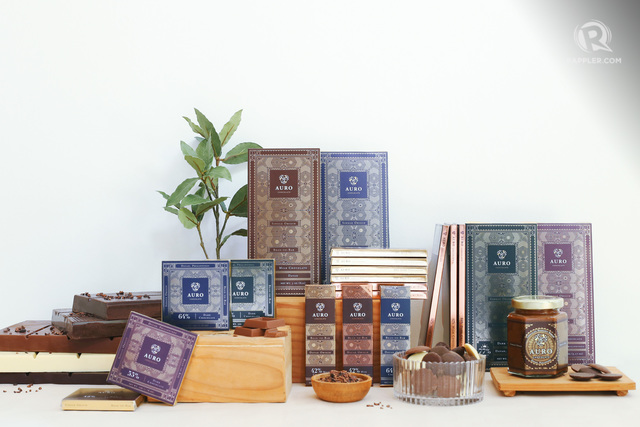 At the "Beyond Bean-to-Bar: Chocolate-Inspired Dinner" at Old Manila they offered a degustation in collaboration with some of the top names in the industry. The menu highlighted the sweet and savory properties of locally produced chocolates.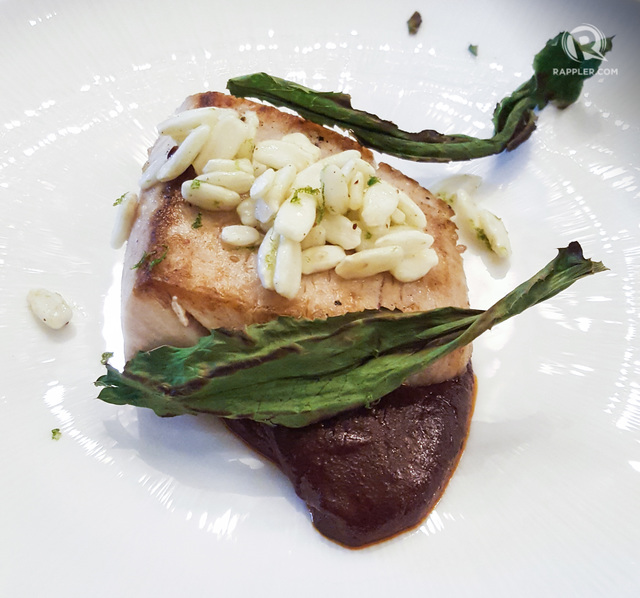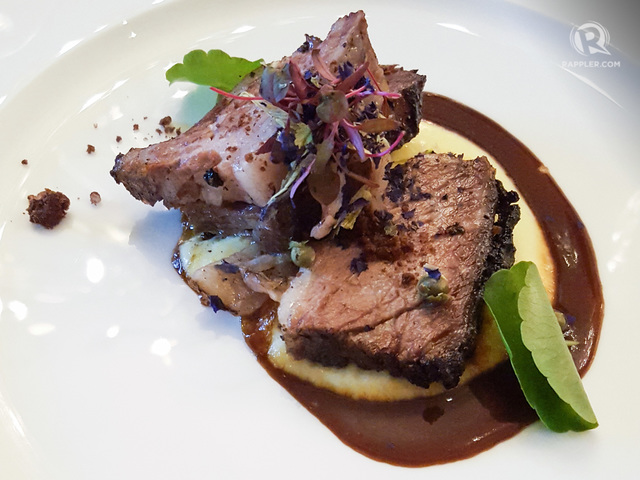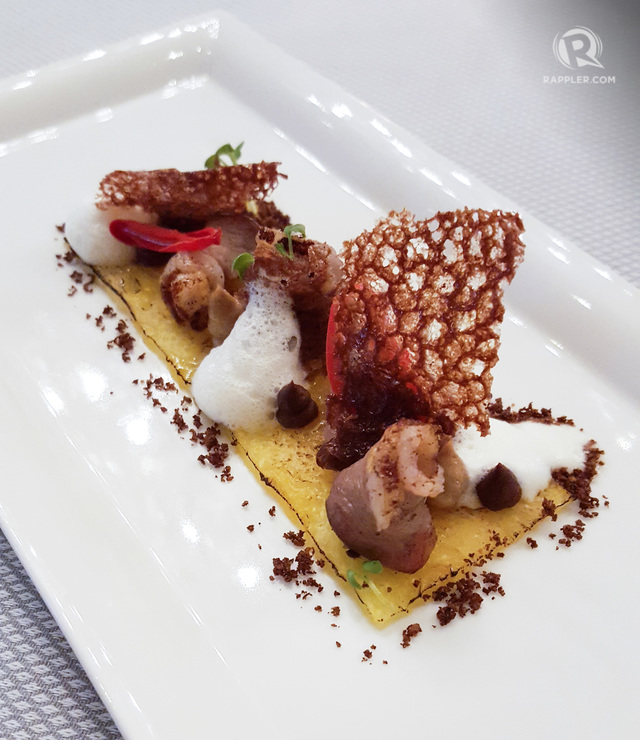 It was more than a fancy affair. The benefit dinner also highlighted Auro's advocacy of supporting the community of retired marines that works with them. To produce quality cocoa beans, the community needs proper post harvest facilities such as a fermentation area, solar dryers, and a cocoa bean warehouse.

The dinner also launched their "crowdfarming" initiative, a unique platform that promotes food sustainability by directly connecting consumers with the origin of their food and its producers. 

Speaking to Auro Chocolate co-founder Mark Ocampo, it was clear that this industry is not only a profitable one for the country, but a sustainable livelihood for our local farmers.
Why start a chocolate business in the Philippines?

Mark Ocampo: Realizing that there is cocoa in the Philippines, we wanted to turn these into chocolates and see what was on the ground. When we got to Davao, we realized that there were so many things that we can still work on and do. The farmers didn't care about varieties and that they would sell it all for the same low price. To produce quality chocolates, we needed to elevate the quality of cocoa in the Philippines. We decided to pursue this and ended up creating a pricing scheme that separates cocoa based of on variety and quality. There is a specific percentage where we set the parameters on what is acceptable and [what is] not.

We grew up in the Philippines, but [co-founder Kelly Go] and I met in Chicago where she ended up going to culinary school and I was in advertising and design. We both studied in Germany to learn how to make chocolate when we decided to start Auro Chocolate.

We realized that there were so many unfair practices in terms of farming and agriculture. The farmers weren't given the tools that they needed to reach their full potential. If they were given value-adding facts and do it themselves, they would have the opportunity to price their produce better. That's why we created the pricing structure to create an incentive for these farmers.

The median age for the farmers is in the 50s, so there aren't a lot who are interested to go into farming. We really wanted to focus on taking care of what we already have, proving and encouraging people in the industry to continue to focus on quality and elevate it as a whole industry.

Why the name Auro?

MO: This whole advocacy is really about going back to the heritage and taking care of what we consider as gold. Auro came about because it signifies gold.

The Philippines has had cocoa for over 300 years. The first cocoa that was ever planted in the Philippines was the rarest cocoa variety in the world, not to mention that the Philippines was the first country to grow cocoa in Asia. It's the best tasting and it's so rare that if turned to chocolate, it's so highly sought after and fetches an expensive price.

How did you find out about the local cocoa industry?

MO: What ended up happening was that when we were in Chicago, we saw a chocolate bar that was being manufactured in the US but uses cocoa beans from Davao. When we ended up going to Davao, we realized that majority of the production of cocoa beans in the Philippines is in Davao.

What have you been doing for the community?

MO: In order for us to focus on cocoa, we wanted to improve the livelihood of the farmers. We created different programs to help support the farmers. For one, we pay the farmers higher as incentive for quality and do proper segregation. We do basic business administration classes so that they are actually able to treat their farms as a business. We teach them to make organic farming products. Also, there's a chocolate making course where they learn how to make chocolates and improve on the products that they have. This is for them to see how their process affects the food they make themselves, and so that they can make the connection of the food from the produce.

As soon as we get into an acceptable quality, we have a whole process to show them the things that we are checking so that they grow and learn. We show them the standards if there are molds or infestations, or if there are slight defects in the cocoa beans. We teach them all of these things so they understand what is being priced and see the expectation of the quality. They in turn have the opportunity to earn a lot more.

The whole thing about this is that our partnership is not a one-time buying, it's building a true relationship that will work through the years. Right now we work with over 2000 farmers all over Davao. We are trying to work with a lot of people and build a community.

Are our cocoa beans comparable to other countries?
MO: I can say we can get there; we're working on it. There are some of exceptional quality but I think in general we need to grow as an industry and focus on quality together – create standard protocols and be able to encourage more people into identifying the quality standards that we are setting in the country.
What is the "Adopt a Tree" advocacy?
MO: We are working with a group of retired marines at the moment. They wanted to support their community, fellow comrades, and also the widowed wives (28 retired marines and a total of 60 members including the widowed housewives). People can adopt a cocoa tree in Davao, the tree itself will be personalized to you with a name card. You can watch the tree grow in a virtual garden at www.crowdfarming.com, or visit the farm when you come to Davao. In exchange for your support, you will receive two kilos of chocolate, renewable every year.
Yau, Rappler.com (2018, January 3) Auro Chocolate is serving up cocoa for a cause. https://www.rappler.com/life-and-style/best-eats/192819-auro-chocolate-farms-davao